If you sell software online, you know that cart abandonment can be a major challenge.
Research suggests that ecommerce shopping carts are abandoned about 70% of the time. That results in some major lost revenue – up to $4 trillion a year according to BI Intelligence (that's the equivalent of ten thousand tons of one-hundred dollar bills).
To help overcome this challenge, here are eight ways to reduce cart abandonment when selling online software.
1. Emphasize What Makes Your Software Unique
One of the benefits of selling a more complex product like software is that no two competitive offerings are entirely alike. While different software packages might serve a similar set of needs, there are always specialized features that set each option apart.
Take full advantage of this by emphasizing your software's differentiating features. These differences do not have to be groundbreaking, they merely have to provide added value to customers in a specific niche.
Ecommerce shoppers will likely look at several competing solutions before making a purchase. A high proportion of cart abandonment occurs because shoppers think they've found a better deal elsewhere. By setting yourself apart from the pack, your customers are less likely to make a direct comparison between your product and competing offerings.
2. Make Your Product More Tangible by Including Images
Software products are somewhat unique in the ecommerce space due to their relatively intangible nature. The upshot of this is that the perceived value of software can often vary widely, depending on how skilled companies are at building that value.
A great way to establish value is to make your software feel more "real" through well-chosen product images. This will give customers a better sense of what they're going to buy, building comfort and encouraging them to follow through with the purchase. For software, this usually includes a physical box shot even if it's going to be downloaded or accessed on the cloud. Other images could be your customers, your team, the end product of your solution or images of the product itself.
The power of visuals should not be underestimated. According to VoucherCloud, multiple images of a product can increase sales by 58%. This effect becomes even more pronounced when you're selling a virtual product like software.
3. Show Videos of Your Product in Action
You might have the most powerful and intuitive software offering on the market, but if your customers don't know that, then it won't make any difference. That's why it's so important to include videos of your software in action.
Videos are so effective that even physical products benefit significantly from them. In fact, 57% of customers report that product videos make them more confident in a purchase and less likely to return an item.
This is even more important for software products, since functionality is often hard to judge from descriptions or static images. Chances are, your customers are buying your software to address a specific problem, so why not show them exactly how the solution works?
4. Ensure Consistent Pricing Between the Product and Checkout Page
Price is a very important issue for online customers. So, if they come to your checkout page and see a final price that is significantly higher than the price on your product page, they are likely to leave. In addition to losing out on a sale, you have also lost credibility with that customer, and they are less likely to make other purchases from you in future.
Often, these pricing discrepancies are not intentional. They can be the result of sales taxes, setup costs or processing fees. If possible, it is best to include these in the price listed on the product page, so that the customer will not experience checkout "sticker shock."
Download our free ebook on "The The Ultimate Guide To The Subscription Pricing Challenge".
[pardot-form id="10406" width="100%" height="190" title="Blog Form (Single field): Subscription Pricing Challenge"]
5. Offer Your Customers Their Preferred Payment Options
Often, customers will abandon an online purchase because the cart does not accept their preferred form of payment. Increasingly, credit cards alone are not enough, and you should strive to include alternative payment methods such as PayPal.
If you sell globally, it is also critical to localize payment options, so that you can present the most popular options for your customer's region. While credit cards are still the most common payment method in North America, this may not be true in other geographic regions. For instance, customers in China might prefer Alipay, which offers greater consumer protection.
In addition, you should display prices in local currency, so that customers can intuitively understand how much they are paying for your product.
6. Make Checkouts as Simple and Intuitive as Possible
According to a recent Baymard Institute study, 27% of shoppers abandon orders because they find the checkout process too long or complicated. To maximize sales, ensure that your checkout forms only ask for vital information, and that there are as few steps as possible. Include a guest checkout option so that customers do not have to register before completing their purchase.
You should also strive to make your checkout process as intuitive as possible with helpful visual cues. For instance, show the customer a progress bar to indicate how many steps are required to complete the purchase. Include thumbnail images of products that have been added to the cart, and display green checkmarks next to completed form fields.
These visual indicators will make the checkout process much easier and clearer for your customers.
7. Prove That You Deserve Their Trust
To mitigate any hesitation around whether your product will deliver the value you promise, you need to reinforce credibility and trust. A powerful way to build credibility with online customers is to display trust marks on your website and checkout pages. These could include credit card logos from Visa or MasterCard, security logos from McAfee or ScanAlert, and business standard logos from Verisign or the Better Business Bureau. If you are using an ecommerce provider as your merchant of record, you might also want to add their logo to your checkout pages.
The effect of trust marks can be significant. VoucherCloud reports that more than 80% of consumers feel safer seeing logos of trustworthy payment options on a site. If you haven't already done so, adding these logos can provide an easy, quick reduction to your cart abandonment rates.
Just as powerful can be social proof like customer reviews, testimonials and ratings that show that customers are successful in getting value from your software. Over 70% of consumers say that they read customer reviews before making a purchase.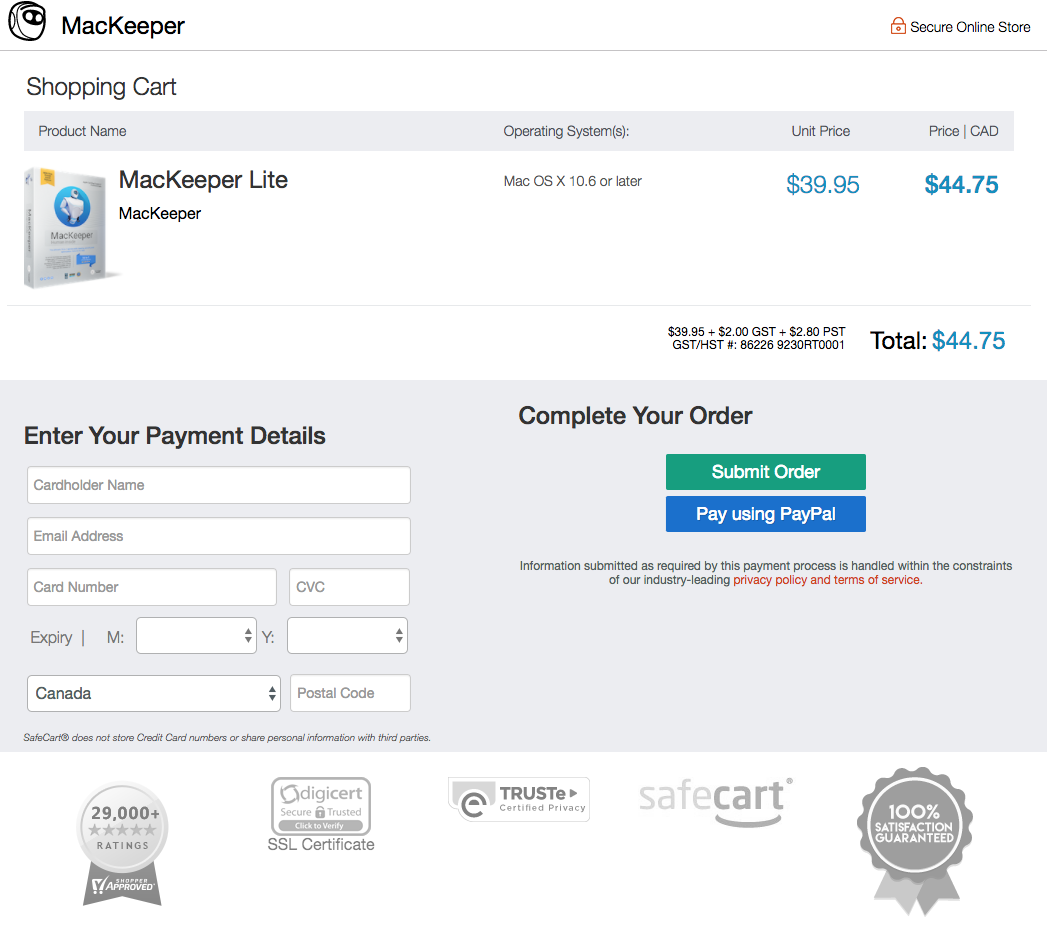 8. Provide (and Advertise) Exceptional Service
In ecommerce, customers don't get to enjoy the reassurance of a physical storefront or face-to-face contact with a sales rep. This can cause some degree of buyer anxiety, especially when purchasing from a new vendor. And for software sales, this effect is further compounded by the intangible nature of the product itself.
So for customers to be comfortable enough to make a purchase, you need to provide exceptional customer service and billing support – and let them know about it.
One way to do this is to display customer support contact details on your checkout pages. This would ideally include a 24/7 toll-free phone number, email, live chat and social network pages. Customers will have more confidence in their purchase if they know that they will be able to easily reach you through multiple channels.
Another way is to provide a risk-free money-back guarantee. This shows customers that you care about their satisfaction, and can help to remove any last-minute buyer hesitation. A refund policy is especially suitable for software, because there is little marginal cost to you of providing a refund, and the increase in customer trust makes it very worthwhile.
Selling the Invisible
Cart abandonment might be a fact of life for ecommerce companies, but there are proven ways to make it happen less often. By following these eight best practices, you will be able to greatly reduce cart abandonment in your online software store.
If you want to learn more on how you can lower your cart abandonment rate, check out how you can get the features to optimize your checkout.