If your car tires wear out, you can always replace them. If you run out of socks, you can always buy more. But what if you spend an hour shopping, get frustrated and leave without buying anything – can you get more time?
Each year free time is diminishing as people get busier, changing the way we look at leisure activities such as shopping. The idea that time can't be recovered places a lot of pressure on businesses to adapt to shoppers' expectations for a faster experience.
Let's look at ways you can improve your online experience and show shoppers you value their time as much as they do.
Web page design
Should you focus on creating an aesthetically pleasing website or one that's efficient? Ideally both, but if you're going to choose one, pick speed because it won't matter how beautiful your site is if it takes ages to load.
Each year shoppers' patience dwindles and even the slightest delay in load times can seriously affect your business. In fact, patience has decreased so much that shoppers expect web pages to load in less than 2 seconds and 25% will leave if that number reaches 4 seconds.
Whether you're launching a new site or updating an existing one, keep it simple. Minimal sites are better than complex ones because they're easier to navigate and require less time to load. More than half of online shoppers place high importance on fast load times, so speed is crucial. The perfect experience is one where shoppers can seamlessly navigate from page to page in the blink of an eye. No one wants to spend valuable time waiting for a site to load. Lululemon is a great example of a simple site where page load times are very minimal.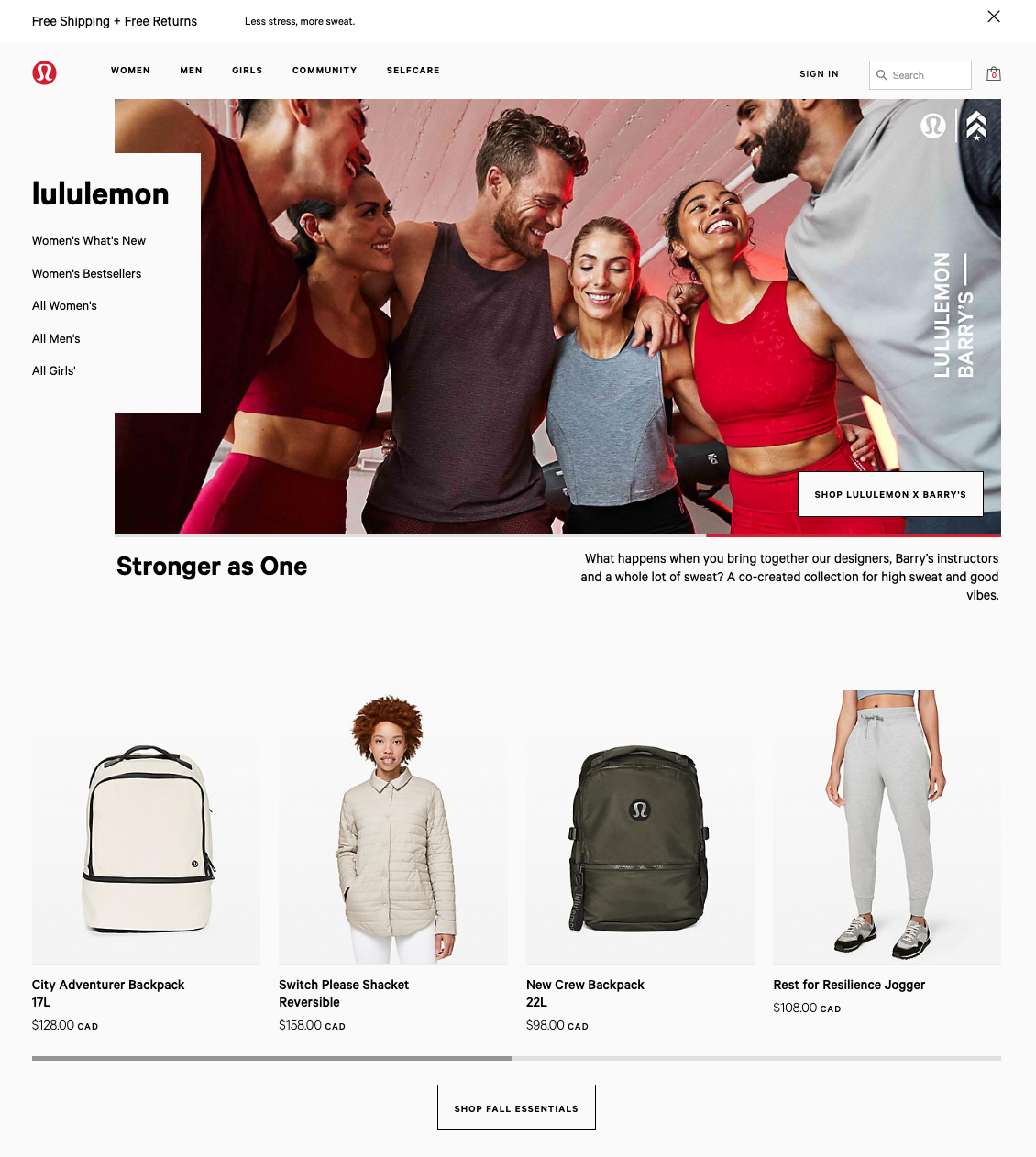 Source: Lululemon
Search tools
If it's difficult to find what they're looking for, many shoppers will become frustrated and leave. They don't want to spend all of their free time scouring your store, so guide customers through your site and reduce time spent searching by making everything easily accessible. In fact, more than three-quarters of shoppers say ease of use is the most important characteristic of a website.
Drop-down menus are an excellent way to limit how many pages shoppers need to load, making searching faster. When designing your menus, take the serial position effect into consideration. This is the idea that people best recall the first and last items in a series. Place products shoppers search for most in those positions to reduce how much time your customers spend searching. RW&CO makes good use of their dropdown menus limiting the amount of pages a shopper needs to travel to get to their destination.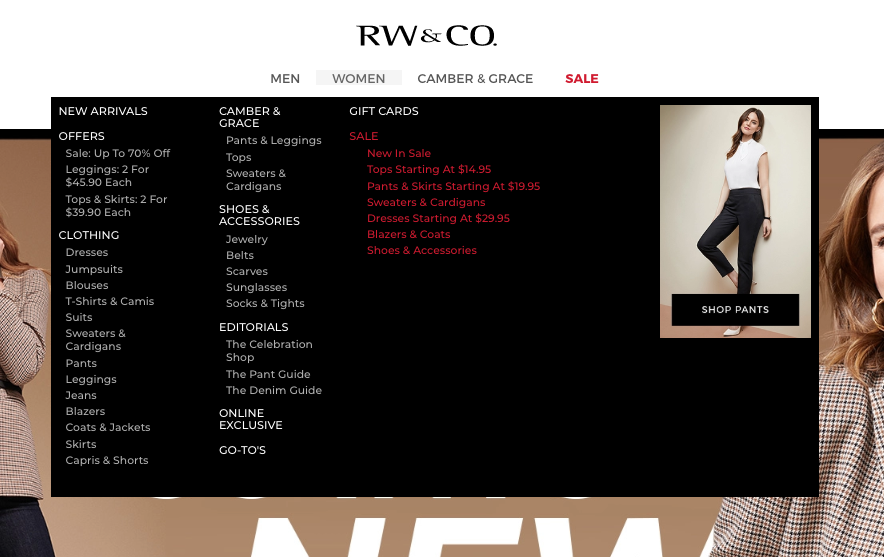 Source: RW&CO.

Another great way to save your customers time is to use thematic filtering. By lumping products together by themes, such as Party Dresses or iPhone Accessories, shoppers can quickly drill down to view only the items relevant to their search rather than sorting through all the products in a category. There's nothing worse than scrolling through a seemingly endless number of pages only to leave empty-handed.
In the near future, chatbots will give shoppers an even faster way to search your store. Sephora's Kik chatbot and The North Face's integration with IBM's Watson are great examples of how chatbots can be used to make hunting for products extremely fast. With Sephora's chatbot, shoppers can take a quick quiz and instantly get tips on what products they should buy. And on The North Face's website, Watson asks shoppers a variety of questions to find the perfect jacket within minutes.
The checkout stage
The last thing people want to do is waste time filling in forms once they've found everything they want to buy. Almost half of online shoppers say checkout speed can make or break their chances of returning to a site. The excessive number of fields shoppers need to fill in is one reason the checkout phase is so time-consuming – but it doesn't have to be that way.
Allowing your customers to save their shipping information can drastically reduce the amount of typing and time required to checkout. When a new shopper checks out for the first time, simply provide them with the opportunity to create an account and save their information for future purchases. With everything saved, completing a purchase can be done in as little as one click.
Another way to save your customers' precious time is to embrace alternative payment methods designed specifically to reduce time spent checking out. The boom of new payment options over the last decade has given retailers a plethora of solutions that address a wide range of shopper's needs – especially when it comes to satisfying time-sensitive shoppers. Alternative payment methods like digital wallets help speed up checkout by allowing shoppers to save their payment information within their wallet and check out using only a username and password or touch ID on a mobile device.
Paying is the least enjoyable part of shopping, so help your customers breeze through the payment process and get back to making the most of their time.
Time is one currency shoppers have trouble handing over
Time is finite, and people don't want to waste it waiting, searching, or typing. They know it's scarce and expect you to give them more efficient ways to make the most of every second.
Want to meet shoppers' demand for speed? Focus on creating an experience with limited friction points to save them time and keep them coming back for more.