As car-connected commerce becomes more sophisticated, its impact on the payment ecosystem grows.
A Smarter Way of Transacting
Fasten your seatbelt, because a new form of commerce may be accelerating into the spotlight this year. A new Digital Drive study composed by PYMNTS and P97 networks has focused its high-beams on the stunning opportunity surrounding automobiles and the smart technology being built within them.
With the average person in the United States spending 51 minutes in their vehicle during their daily commute, the study predicts that in-car connected commerce represents a $230 billion opportunity.
As an increasing amount of drivers become more familiar with smart devices and in-dash experiences, and as the time in which those users spend their commute connected to the internet rises (66.4% year-over-year growth), people are ultimately spending more time making transactions on the road.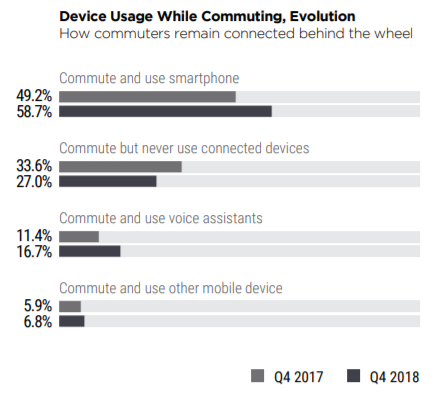 Image Source: Digital Drive Study by PYMNTS & P97

Shopping in Transit
With new dashboard technology available that allows drivers to find and pay for their gas using their vehicle, the joint study states that nearly half of those currently deploying the tech have used it track a nearby gas station within the last week.
Additionally, over a third of those commuters have used their connected device to order food and pick it up at the drive-through with companies that can currently accommodate those types of transactions.
It doesn't end there either. There are vast new ways people are using this connected technology to make purchases while they're commuting, like ordering items at stores, shopping for groceries, and paying for their parking spots.
Image Source: Digital Drive Study by PYMNTS & P97
Evolving Technology
It's not just consumers that are getting savvier with how and where they use their devices to make purchases. Smart technology is covering new ground quickly to make it easier for payments to be made on-the-go.
Last fall, Amazon announced the Echo Auto, a new smart speaker designed specifically for cars. After receiving over a million pre-orders, those devices are now on their way to those who purchased them.
This follows Google's decision earlier in 2018 to bring its Google Assistant service to Android Auto, which is used by over 400 models of vehicles across 40 different manufacturers.
While neither of these devices have made any ground-breaking strides to remove the barriers of friction and make commute payments stickier in terms of consumer adoption, that could very likely change as we progress further into the year.
Paving the Way
As consumers continue to gain an appetite for carrying out commerce during their commutes and purveyors of smart-enable technology make advancements to cater to this shift in shopping preference, 2019 could be a real game-changer of a year when it comes to seeing commute commerce establish itself as a major player in the payments space. Especially when combined with the fact that smart payments are expected to produce over $45 billion in transactions within four years.
What remains to be seen are how businesses will adapt to these trends. As of right now, major brands like Walmart, Chipotle, Starbucks and Dunkin' Donuts are evolving the way they allow their customers to pay for their goods, but we likely still have a bit of waiting to do before we see more companies -particularly small and medium-sized businesses as well as B2B businesses - enable these forms of smart payments.
Still, we're beginning to see a potential new form of commerce blossom at an early stage, and as time goes by and technology continues to get more intelligent, it will be very interesting to see how this impacts not only the way consumers make their purchases, but the realm of commerce as a whole.
Buckle up! It's going to be wild year.