It's no secret that social media is a powerful marketing channel for ecommerce retailers.
People spend lots of time every day on their favorite social platforms, and they also use those social platforms extensively to gather opinions and make purchasing decisions. In a recent Brightcove survey of 5,500 consumers in the U.S., U.K., Germany, France and Australia, 81% of respondents regularly interacted with brands on social media, and 74% said watching social videos influenced their purchasing decisions.
Social media companies have realized this, and are making it easier than ever for customers to make purchases from third-party retailers directly through their platform. This greatly minimizes the friction of the purchase process, increasing conversion rates for online brands while also giving them access to these social platforms' vast user bases.
This trend has been dubbed "social commerce", and it is rapidly transforming the ecommerce landscape. In this article, we'll take a look at the most important players in this space, and how brands can leverage their platforms to boost revenues.
Facebook
Facebook is the 800-pound gorilla of social commerce.
In part, that is due to its massive user base and cultural influence. As of June 2018, the platform had 1.47 billion daily active users, and 2.23 billion monthly active users. In the US, 30% of all retail shoppers have discovered a new product on Facebook, while 20% said that Facebook led them to buy a new product or service online. And those aren't just one-time purchases, either. Users who sign in more than 5 times daily are 1.25x more likely to be loyal to certain brands, making many repeat purchases over time.
At the same time, Facebook also provides more advanced ecommerce functionality than any other platform out there. While most platforms simply allow you to add a buy button to an individual post, Facebook lets you turn your business page into a fully-featured online store, with an unlimited catalog, highly customizable product listings, and even a powerful analytics backend.
Facebook's reach and comprehensive ecommerce offering means that it should be the first stop for most brands looking to get on board with social commerce.
One brand that has achieved great success on Facebook is MVMT watches. The platform appealed to the company due to its ability to simplify the customer journey. In the words of Creative Director Spencer Stumbaugh, "It's really important to cut out steps in the purchasing process. [A Facebook store is] almost like have a new landing page, but one customers can purchase from instantly."
Within months of launch, MVMT's Facebook store was seeing over 20,000 visitors a month, and their 0.5% conversion rate resulted in $15,000 in revenue from direct Facebook purchases.
One interesting lesson from the MVMT success story is the importance of choosing the right products to feature on the shop home page. 75% of MVMT's sales came from those three featured products, so it's critical to reserve those spots for your strongest offerings.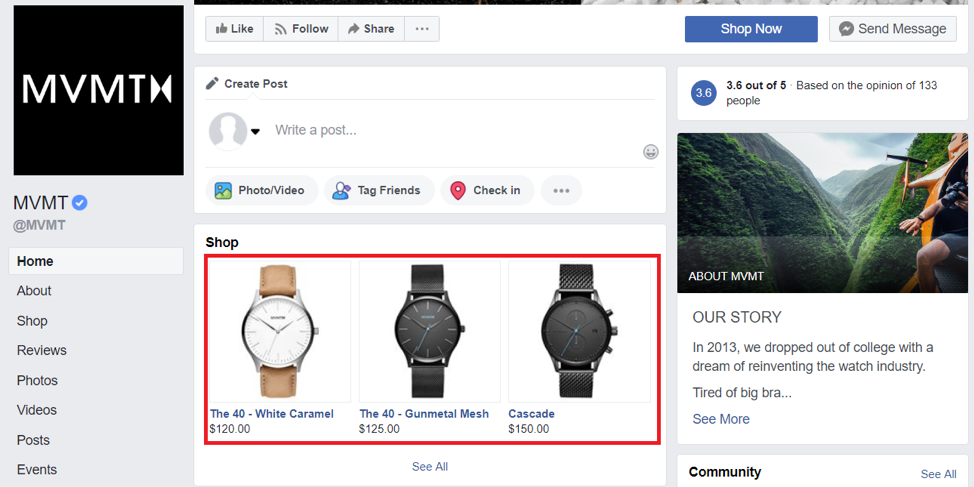 Pinterest
If Facebook is the reigning king of social commerce, Pinterest is the undisputed queen.
Despite having a much smaller user base than other social media sites, at just 250 million monthly active users, Pinterest punches above its weight when it comes to actual purchases, generating 16% of all social commerce revenue.
This is because Pinterest users tend to be especially avid online shoppers. Studies have found that 87% of Pinterest users have purchased at least one product viewed on the site, and the average order value of purchases is $58.95, compared to $55 for Facebook.
Pinterest's social commerce functionality is simple but effective. Brands create buyable pins that look similar to regular pins, but that display a prominent buy button at the bottom of the pin. All other social CTAs are still present, ensuring that even customers who don't purchase right away can help spread the word about your product.
An interesting thing to note is that brands tend to get more bang for their buck with buyable pins than equivalent posts on other social media. Since 80% of Pinterest pins are re-pins, original content is often spread to a wider audience. And the half-life of an average pin is 3.5 months, compared to 90 minutes for a Facebook post and 24 minutes for a tweet.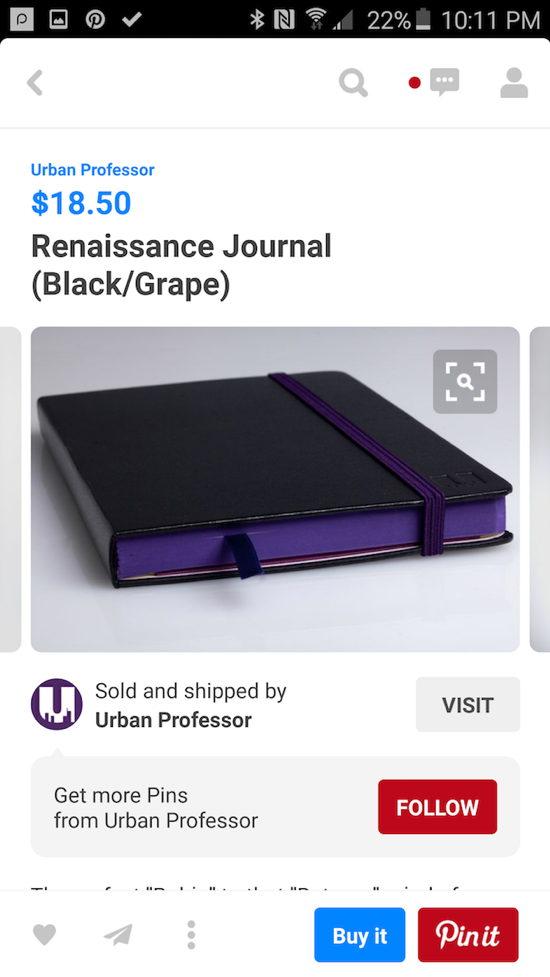 Source: https://blog.hubspot.com/hs-fs/hubfs/Ecommerce/Buyable_Pin_Example.png
Contrary to popular belief, Pinterest is not just for B2C businesses. An excellent case study of B2B success on Pinterest can be found in Beth Schwamberger's Brilliant Business Moms brand, which sells products to help entrepreneurial moms run their businesses effectively.
Schwamberger noticed that Pinterest was accounting for a large portion of her regular website traffic, and decided to expand her presence on the platform. Within months of these efforts, Pinterest had helped her drive over $15,000 in sales.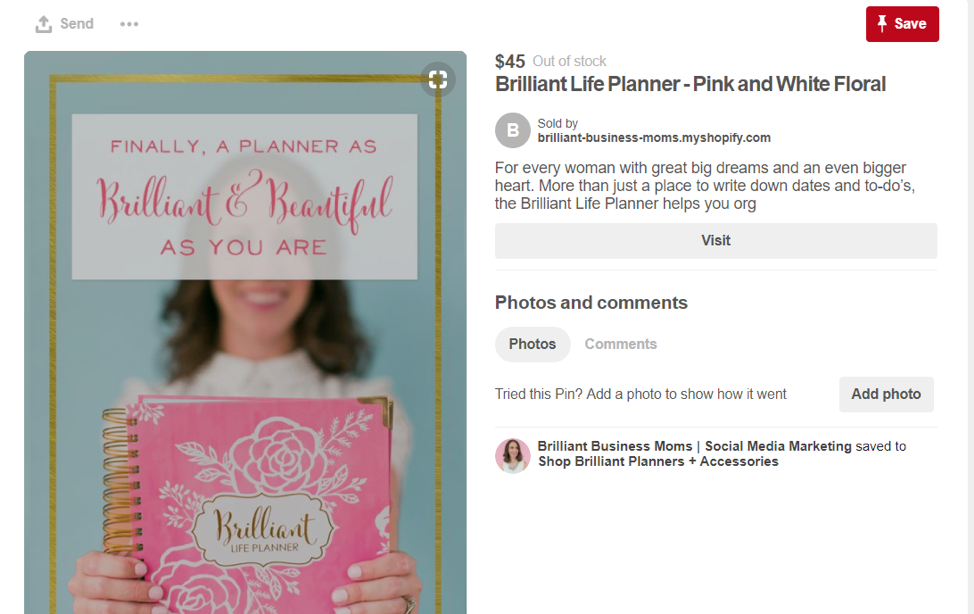 Key to Schwamberger's success was her effective use of group boards, a feature which allows other users to contribute pins to a board you've created on a particular topic. Brilliant Business Moms now has hundreds of different group boards based on topics and products that are relevant to her target audience.

This allowed her to rapidly grow her community on Pinterest, where her profile now has over 42,000 followers and sells over 40 different products on a regular basis.
Instagram
Instagram is a relative newcomer to social commerce, having only launched its shopping functionality in 2017. But despite its late arrival, the platform is already showing strong results, and is likely to become an increasingly strong presence in the space over the coming years.
With over 500 million daily active users, and more than 1 billion monthly active users, Instagram is the second most popular social platform in the world after Facebook. And that user base is not just large, but also heavily engaged. In a survey of over 2,500 micro-influencers, 60% of respondents believed that Instagram had the best user engagement of any social media network. Facebook came in at a distant second, with only 18% of the votes.
This level of engagement is supported by Instagram's sales numbers. At $65 per order, Instagram enjoys the highest average order value of any social platform.
One of the coolest features Instagram offers is the ability to include product tags directly in Instagram Stories and Posts. This allows customers to view your products in a "real-life" context, and make a direct purchase of a specific item they like with a single tap.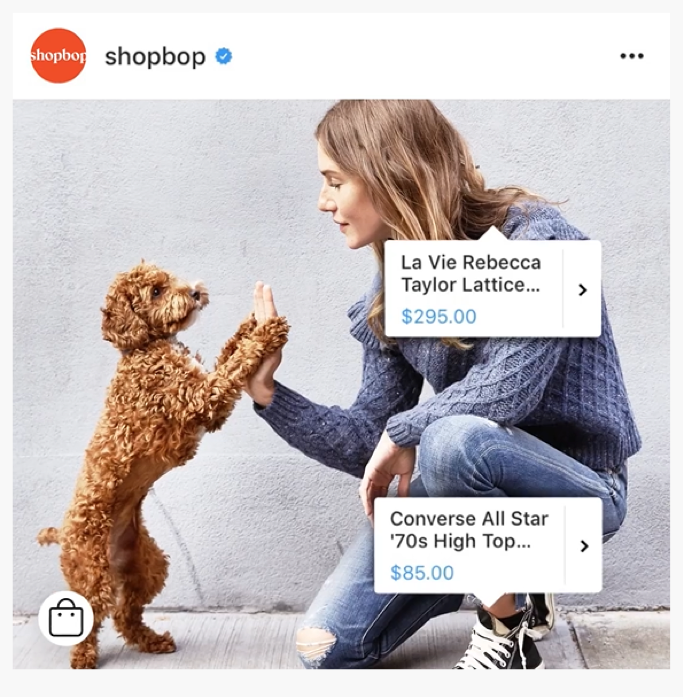 Source: https://business.instagram.com/a/shopping-on-instagram
But Instagram is not only for clothes and fashion retailers. When mobile app developer Zephyrmobile wanted to advertise their Live Wallpapers Now app, they ran a number of sponsored Instagram Stories aimed at audiences interested in wallpapers, shopping and entertainment. These Stories included a single CTA button which would directly download and install the app on the user's phone.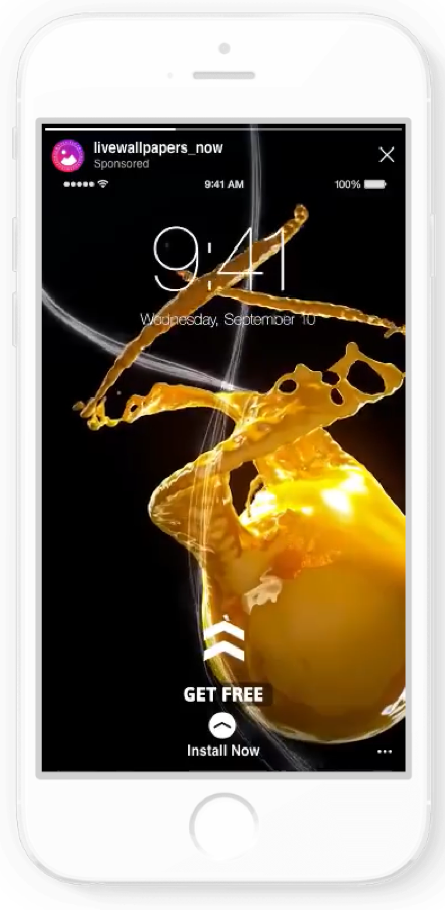 Source: https://business.instagram.com/success/zephyrmobile/
Within 3 months of launching this campaign, the company increased its install rate by 50%, lowered cost per subscriber by 50%, and saw a 1.3x return on their Instagram ad spend.
Social Commerce Turns Engagement Into Sales
Social commerce works because it is simply the most direct way of converting brand engagement into actual sales. By allowing customers to purchase your products directly on their favorite social media networks, right as they are interacting most actively with your brand, you'll be able to craft a much more organic buying experience that will greatly increase your conversion rate.