Partnering with third-parties to promote, grow and retain business is a well-established practice for traditional software companies. It enables more sales by accessing channel experts who find and convert customers online in exchange for a set fee or a share of the revenue.

Good partner programs include tools to effectively manage relationships between vendors and partners. But great partner programs automate accurate, timely global partner payout calculations and distribution to multiple partners simultaneously.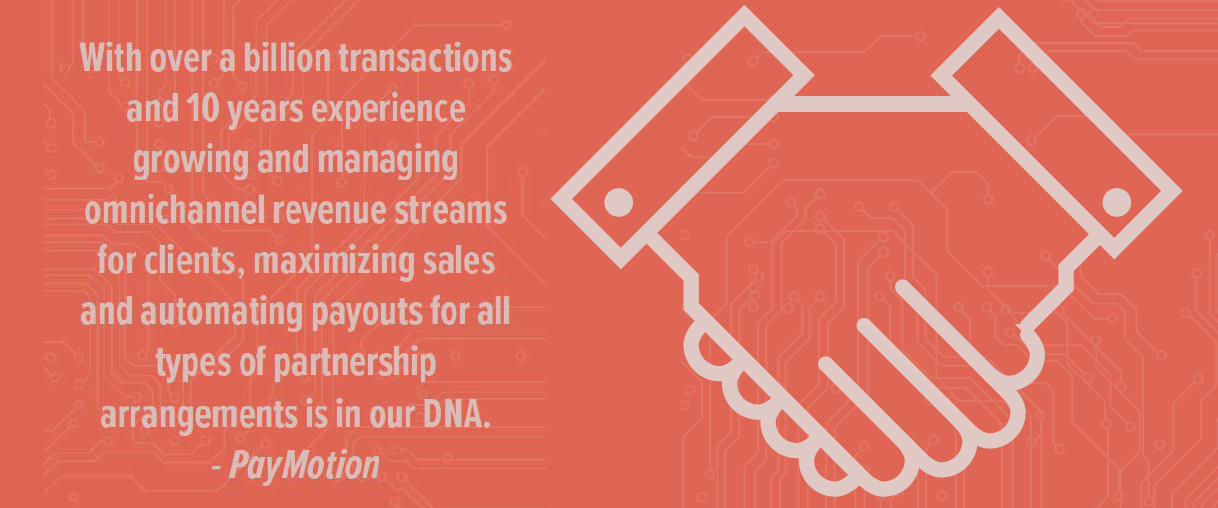 To date, the opportunity afforded by partner programs hasn't yet been fully harnessed by software-as-a-service (SaaS) businesses. A recent Forrester survey found that only 23% of B2B SaaS companies have a channel partner program compared to over 80% of on-premise software businesses.
Some of the most commonly cited reasons for not using a partner program include:
SaaS tends to be easy to install and configure, removing much of the need for value-added resellers (VARs). With downloadable software needing to be installed locally

 rather than accessed through the cloud, installers traditionally acted as VARs offering upsells and cross-sells during the install.

Many SaaS companies are relatively young and have not had the time to implement effective channel strategies. More to the point, many have not invested in global expansion. As companies expand internationally, the need for an external partner base who can facilitate entry to new international markets without the risk and delays associated with going it alone becomes a more obvious requirement.

A subscription model does not offer the large one-time payment incentives that resellers and channel partners are used to. This makes it harder to attract them as a model with smaller payments over a longer period of time is simply not as compelling as  larger, "one-off" commissions. 
In today's online world where competition for customers is increasingly fierce, having a partner program to increase reach and boost sales for a known cost per acquisition is becoming more of a priority. Early adopters of channel partners in the Everything-as-a-Sevice (XaaS) economy are able to take advantage of their choice of partners and a larger initial audience.
What is Partner Relationship Management?
Partner relationship management (PRM) is a business strategy for improving communication between companies and their channel partners or agents. It enables organizations with indirect sales channels (such as agents, brokers, dealers, distributors and value-added resellers [VARs]) to more effectively and efficiently manage activities related to sales, lead management, deal registration and opportunity management. Generally speaking, partner relationship management includes:
Partner recruitment and onboarding
Deal/lead registration
Incentives and rewards management - pay the right amount on time
Market development fund (MDF) support
Training and certification
Co-branded marketing support
Business partner communication and alignment
These elements are focused on acquiring the right partners while subsequently managing and automating the flow of information between relevant parties. There are many applications on the market that assist with the management of these various components. Some are stand alone and others are similar to a customer relationship management solution combined with a portal. The exact type of PRM that's best for a business depends on specific program needs and the partner types.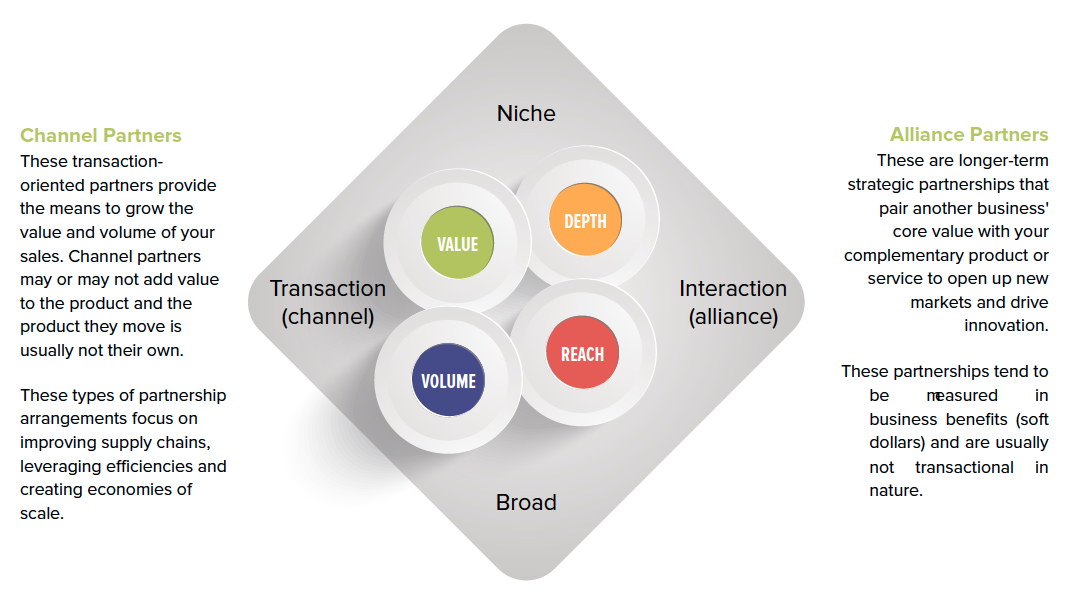 There are a few principles that are common to all successful channel management solutions.
The first is providing easy access to the information (like base personas) and tools required for partners to successfully promote your product or service.
Partners augment this with their unique perspective of your audience to get better results than you could likely get on your own.
Performance is then transparently tracked and communicated to both parties.
While the core components of a PRM system are well understood, there has been a move away from a strictly CRM functionality towards one that incorporates ecommerce components as well. In fact, Gartner recently stated:

Most of the stand alone PRM providers mention the importance of tracking partner activities in order to attribute commission. But few are able to actually process the transaction in real time with automated revenue splits. This becomes even more important with businesses with multiple agents and partners receiving regular payments. These types of transactions can be managed much more easily with a robust ecommerce platform that is able to actually track transactions in real time and pay one or multiple brokers the right amount at the right time. (Complete the form to get in touch with one of our partner and payments experts, or keep reading below!)
Expanding with an active global partner network is a great opportunity but it comes with its own set of challenges. Access our report to make sure you're set up for success in the complex world of partners, payouts and payments.
[pardot-form id="10276" width="600" height="240" title="Blog Form (Single field): Payouts Partners Payments"]
SaaS Partnership Programs: Overcoming The Barriers
While there are three main reasons why SaaS companies have been slow to add partner channels to the extent of their on-premise counterparts, each has been or can be overcome.
1. A Growing Opportunity for SaaS VARs
The focus on "click not code" (meaning that what would traditionally require coding knowledge now simply requires a drag-and-drop action) has changed the type of value-added service required by B2B SaaS end users. But it has not removed it all together.
The type of value that VARs supply for the buyers is changing from relatively low-value work associated with basic installation to highly skilled functions - they are now acting as strategic advisors leveraging their knowledge of a client's business rather than the software to generate results for their clients. As such, many are changing the delivery of their own service or product and their payment model to that of a subscription, like their clients. Value is accrued over a long period with incremental advances and billed accordingly. This is reflective of a corporate culture that is adopting more lean and agile processes.
2. The Industry is Starting to Go Global
Increasing numbers of SaaS companies are looking at international expansion as a way to grow revenue. They are looking to establish or access a global partner network with knowledge of their business and their target customer segment in different countries.
Along with global expertise in the form of partner arrangements, other contributors to the erosion of barriers to online international expansion include:
Ecommerce solutions that are able to accommodate global transactions with frictionless localized checkout experiences where the end user's cart is displayed in their local language and currency. It also accepts their preferred method of payment (credit and debit cards, direct debit, PayPal and other payment types).
Personalization engines that allow for content to be displayed based on user-focused, product-specific or real-time data.
Translation services that are less expensive and more available than ever.
3. A Changing Incentive Model for Resellers
As the value provided by resellers changes, so too will their payment models. As mentioned, VARs in SaaS are starting to shift to their own subscription business model, focusing more on longer term strategic direction that shows continuous results over time. As they do, they may themselves be more incentivized with smaller recurring payouts as the potential and LTV of these payouts becomes a known.
This brings up the point that many PRMs tend to focus on the flow of information between parties to a partnership and not the actual parsing and management of payouts. In reseller and partner agreements that involve multiple, smaller payouts to multiple parties, an ecommerce solution that is able to process payments and automate the management of partner payouts while tracking all attribution data to all transactions and all parties to a transaction is imperative.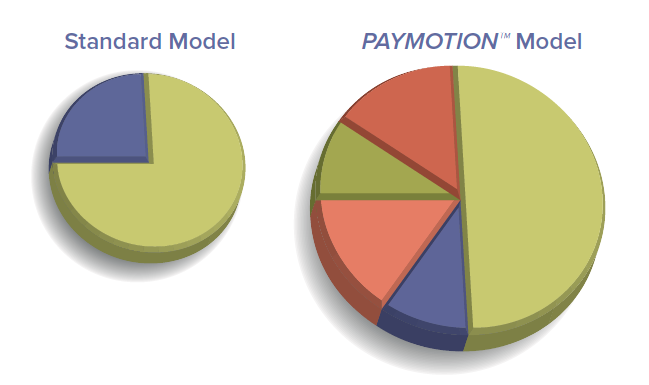 This leads to the need for a partner payout attribution model that provides a turnkey method to pay multiple stakeholders their portion while providing the key transactional data partners require to optimize their processes.  Out-of-the-box PRM systems often do not have the ability to automate both he tracking of and payment to partners. Over and above all the other factors a partner might have with a vendor, being paid out the right amount on time is paramount.
Frictionless compensation can ensure you are able to keep your best partners happy so they can keep growing your business. With a model consisting of multiple smaller payments, this attention to detail is even more important. When margins are small, any disruption can quickly erode profits for everyone.
The common thread is that the biggest barriers to a partner program can be overcome with a robust ecommerce platform that manages partner tracking, attribution and payout distribution while also accommodating globalization and which can be easily integrated into CRM and portal technologies.
If your business would benefit more effective management of the payment and processing of transactions, consider looking at improvements to your ecommerce solution.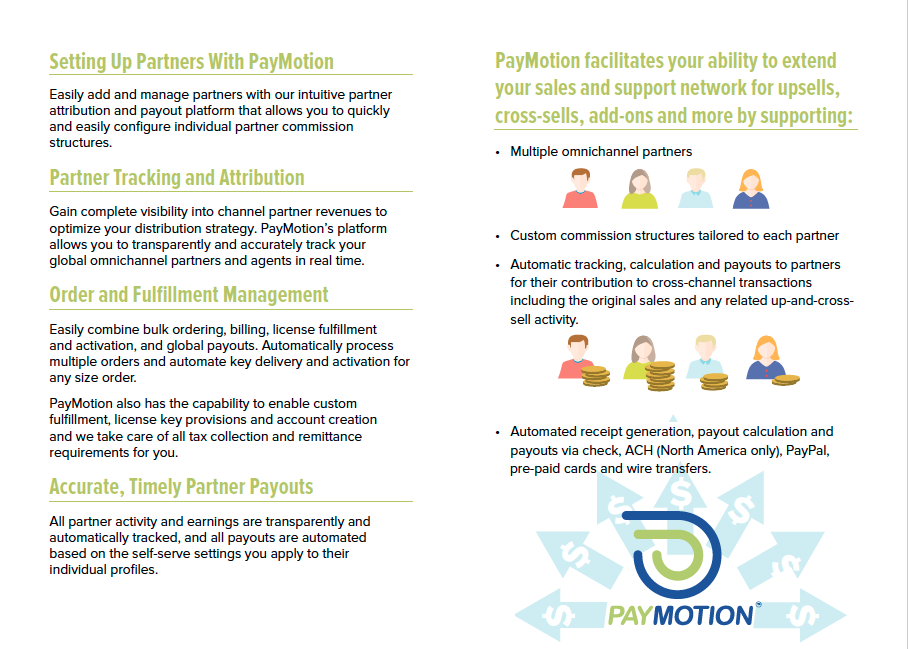 Bringing It All Together
Partner relationship management is much more than a customized CRM - it's a business strategy that encompasses many aspects. One that is often overlooked is how to manage revenue splits with complex partner agreements. This requires the implementation of ecommerce functionality that pays companies on your behalf, streamlines onboarding, provides end-to-end reporting that can record revenue splits in real-time and results in the right amount being paid - on time - every time.
Truly Comprehensive Partner Management
Truly comprehensive partner management requires a single point of integration for all things payments, seamlessly integrating attribution and payout distribution requirements with ecommerce functionality to help online businesses increase revenue and sales and open new markets.
Expanding with an active global partner network is a great opportunity but it comes with its own set of challenges. Access our report to make sure you're set up for success in the complex world of partners, payouts and payments.
[pardot-form id="10274" width="600" height="280" title="Blog Form: Payouts Partners Payments"]