From budding entrepreneurs to established businesses, ecommerce provides an undeniable opportunity to reach more customers and access new revenue streams. Similarly, an ever-increasing number of people are opting to make their purchases online because of the greater convenience offered, more personalized online experiences and growing levels of consumer trust.
An estimated 9% of all retail sales in the United States will be made online in 2017 and this is even higher in countries like China where up to 25% of purchases are expected to be made online by 2020.

But with a lot of opportunity comes a lot of competition.
This is why it's so vital to ensure your ecommerce experience is optimized from end-to-end for your customers. Only then can you maximize conversion rates, better retain shoppers, facilitate word-of-mouth buzz about your business and grow revenue.
Choosing the right ecommerce solution for your business can be complicated because the incredible range of choices. But broadly speaking, there are two overarching options to start with - you can build your own online shopping and checkout experience, or you can work with an outsourced ecommerce provider that can do varying degrees of the heavy lifting for you.

The Many Parts Of An Optimized Ecommerce Experience
Every encounter with your brand, from an initial click to post-checkout interactions, needs to build a great brand experience. So, what exactly does an excellent shopping, checkout and post-purchase experience look like?
The truth is that there just is no secret "magic" formula. What you need to do is focus on providing your customers with all the functionality and information they need when making a purchase decision online to appeal to them, satisfy them, reassure them and, ultimately, enable them to validate their decision to buy.
From An Optimized Shopping Experience
Shoppers need to be able to find what they need, understand the value it will provide and be confident that value will be delivered... And this all needs to happen fast.

Not only does your online store need to fit your brand and be visually appealing, it also needs to be easy to navigate. The messaging needs to be concise and emotive, the imagery needs to be connotative and engaging while the layout needs to meet user expectations and be uniquely compelling at the same time. It also doesn't hurt to have reviews and other social proof to reinforce your value-based messaging.
The best optimized ecommerce solutions also incorporate features to personalize the shopping experience based on variables like location, browser preferences, demographics, past browsing history or referral source. This can include special content, images, offers or cross-sells.
To A Streamlined Checkout Experience
Shoppers increasingly expect more personalization and choice when it comes to online shopping, and this includes checkout. Once shoppers find what they want and are ready to buy, it needs to be quick, easy and they need to feel safe to purchase.
While it's critical to have a clear path to check out with everything working and displaying correctly, it's not enough. Despite improvements in check out processes, cart abandonment rates keep going up and currently average around 70%.

Along with surprise fees or lack of confidence in site security, some of the biggest reasons shoppers bail include prices in the wrong currency, and fully 8% say they have abandoned an online purchase because their preferred payment method was not available. In a nutshell, this means that your checkout needs to accept multiple payment options, especially if you are selling internationally as the predominant payment methods in many countries is not credit cards.
To Customer Success
To be truly successful, you need your current customers to make repeat purchases and refer you to their social networks. This means that you can't stop adding value once they've reached the "Thank You" page. You need to seamlessly provide anything else relating to that purchase experience that your customers might need including onboarding help or billing support. Some optimized end-to-end outsourced ecommerce platforms provide those purchase related post-sales services for free.
The Spectrum Of Ecommerce Solutions
With so many elements needing to coalesce for a great ecommerce experience, it can be tricky to figure out if you should build inhouse or outsource.
On the one extreme of possible solutions is the build-it-yourself option. To start, this requires you to enter into merchant agreements with payment methods (like Visa and MasterCard) directly, hire developers to build out your online portal, and ensure you constantly have sufficient security to protect your customers' payment information.
On the other, there are a number of ecommerce solutions offering varying degrees of hosted and open-source solutions. Picking the right one for your business depends heavily on your unique business needs.
An open-source solution like Magento, for example, gives you a powerful ecommerce engine that you can plug into your website. From there, you are required to add your own customizations (some are available in Magento's app store) and you will need to build and host your own shopping experience.
One major advantage of this method is that it gives you a high degree of flexibility when it comes to customizations, especially if you have more sophisticated ecommerce needs and an expert in-house dev team with bandwidth.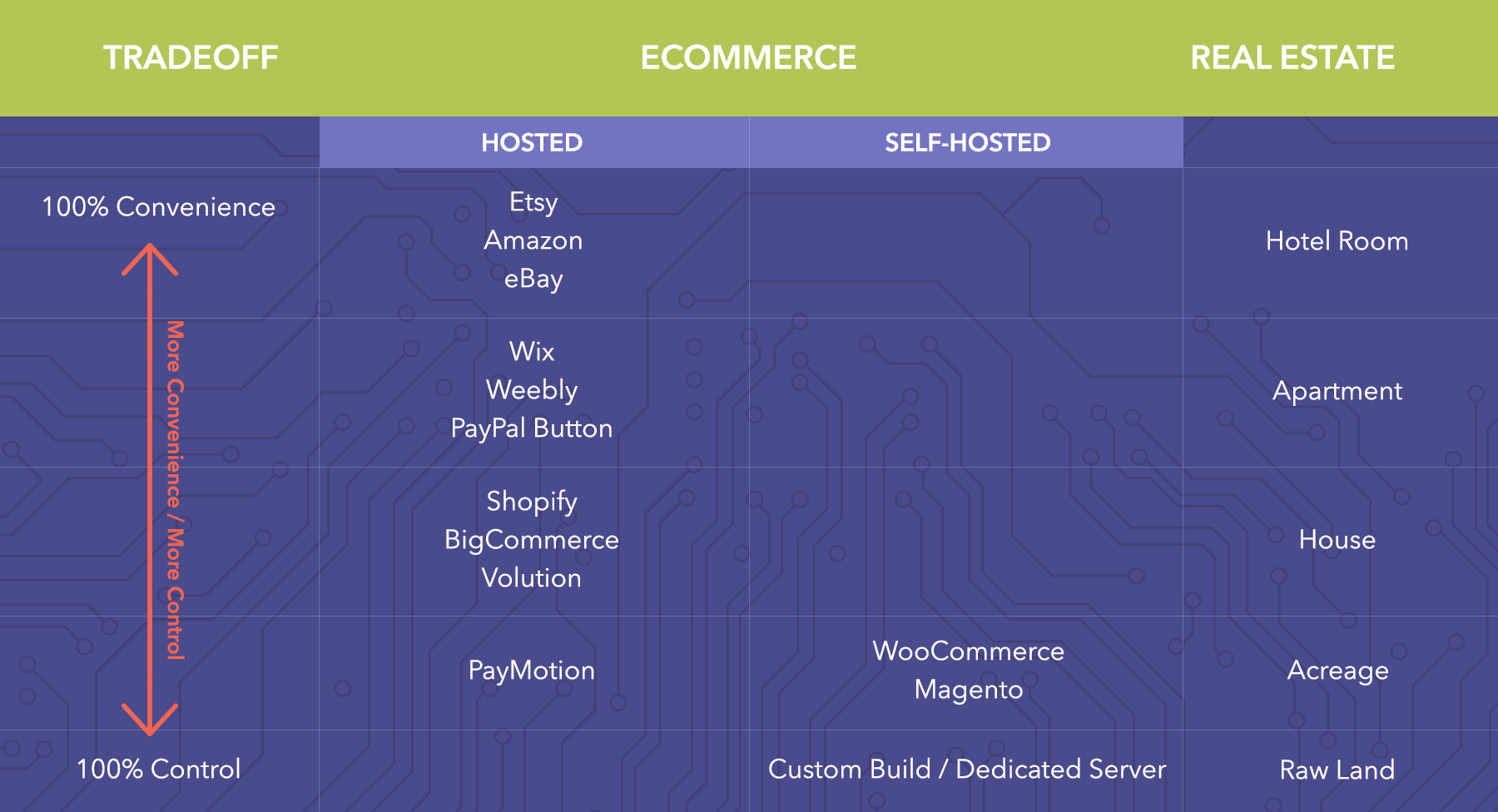 Why Opt For Out-of-the-Box
Putting aside third-party sites like Amazon and eBay where you can simply list your products for sale in their database, on the other side of the spectrum of ecommerce solution partners are your hosted, out-of-the-box ecommerce providers like Shopify, Wix and Weebly. These solutions tend to be hosted by the ecommerce providers themselves with basic customizations available through a portal.
The solutions are without a doubt very popular because they allow you to have your own branded store online and are an excellent option for smaller businesses that are just starting out. They can even support the needs of large, enterprise-level companies if those businesses don't have complex ecommerce functionality requirements.
Some of the reasons for their popularity include:
Easy eStore Setup
The main benefit of these kind of solutions is that they provide a good level of basic functionality right out of the box and require little to no technical expertise to get started. They have online store and checkout templates ready to go, and also offer some drag and drop customization functionality as well as some control over design elements like colors and fonts.
One of the biggest advantages compared to building your own is that most of your needs have been thought of already and are incorporated into the platform. Therefore, once you get onboard and set up the look and feel of your online store, you can start adding products, setting prices and defining other details relatively quickly.
There are some options to get into the code for additional customizing though this is usually limited. There is also dedicated support for help setting up your store and installing applications into your instance to add additional functionality.
App Extensions
You can add applications to further customize and enhance your customers shopping and checkout experience. There are literally thousands of apps to browse, explore, choose and integrate available on Shopify, Wix and BigCommerce to create a more powerful ecommerce experience.
Basic Payment Processing And Order Management
Instead of applying for and setting up a merchant account with different payment methods like credit cards and PayPal, out-of-the-box ecommerce providers do it for you. There are also options to input and track your inventory to ensure you can meet orders that are placed.
Top Payment Security Built In
With over 40,000 websites being hacked every day, staying on top of security can be a challenge if it's not your core business. And if you do get hacked, you'll likely suffer significant losses.
A major advantage of outsourced ecommerce solutions is that they host your checkout and, therefore, handle all security requirements for you. Most are PCI level 1 compliant which means they have the highest standard of security implemented and you don't have to handle sensitive customer payment data at all.

Built For Ecommerce
To top it all off, companies like Shopify have been lauded for having well thought out features and easy-to-use interfaces so that you can get up and selling quickly. Furthermore, they have fast load times to ensure better conversion rates. Even a one second delay can decrease conversions by up to 9%.
So, if you want an ecommerce store that's easy for easy to set up and doesn't need much, if any, technical expertise, turnkey ecommerce solutions can be ideal.
Shortcomings Of Out-Of-The-Box Ecommerce
Turnkey ecommerce is great for its ease of use and relatively quick set up. But there is a reason many opt for other solutions, particularly those looking to scale and with ecommerce needs that are getting more complex. This is where the limitations of turnkey ecommerce solutions can start to eat away at your growth potential.
Limited Customization

There is usually a tradeoff between ease of use and the amount of customization and sophistication you can expect. While you may have templates to choose from, the elements that you can change easily within them are often limited to colors, font sizes and, occasionally, a few design elements.
But every business is different and you might not be best served by a template that's being used by countless other merchants. For example, you may want to customize your checkout path with upsells, cross-sells, coupons, trial offers and have the ability to A/B split test variations. This is not easy, if possible at all, with out-of-the-box solutions.
Plug-ins do add some versatility for your store but these are also out of the box. Therefore, customization is usually limited. In addition, some platforms, like Volusion, make it particularly difficult to add robust analytics capabilities to your ecommerce store.
Multiple Layers Of Cost
Many out-of-the-box solutions like Shopify charge fees in a number of ways. The first is monthly costs for the features set you want which range from $15 to over $100 a month. On top of that are transaction and credit card fees which usually run between 1% and 3% each per transaction.
In addition, while some add-on applications are free, others require upfront or monthly costs as well. Volusion, for example, charges $100 a year for a SSL security certificate to process credit cards. So, depending on what you need, your costs could add up quickly.
Extra Steps For Many Payment Methods
While turnkey solutions usually provide support for many basic payment options for your customers, there is work involved if you want to add more.
From Shopify support portal, for example:
"Most Shopify store owners accept credit card payments but you can offer more options like Cash on Demand, Money Orders, etc. Shopify integrates with many different payment processing services, and more are being added all the time. Just give Shopify the details once you've set up an account with one of them."
The different options they mention links to a page full of options. If you know which ones you want, how to apply for an account and the implications in terms of processing fees and compliance, then you can leverage a lot of options. But keep in mind that you'll need to do the work.
Hard To Migrate
If you do end up wanting to migrate to a different platform down the road, it could prove difficult because out-of-the-box solutions compel you to build out your store through their interface. Therefore, your set up and data is more or less locked into one solution.
Limited Support
All the major outsourced ecommerce providers have some support available to address problems in your store set up. Some may provide suggestions based on best practices. But otherwise, it's up to you to persevere through the process including how to optimize for SEO, create content and set up an ideal shopping and checkout flow for your unique business.
Also note that if you're building your store with an out-of-the-box solution, you need to check how SEO friendly it is. Shopify for example locks the robots.txt which can result in all kinds of indexing unpleasantness. Take that into consideration along with the stark fact that 44% of purchases online start on a search engine when evaluating your options.
Not Great For Expanding Overseas
One of the most appealing aspects of ecommerce is the ability to reach customers around the world. But converting customers internationally doesn't happen automatically. Growing your ecommerce presence overseas requires providing an optimized ecommerce experience to your global users. This, in turn, needs more functionality than is frequently included in out-of-the-box ecommerce solutions.

For example, you need to make sure that:
Prices are in a customer's local currency (13% of shoppers abandon their cart if the price is in a foreign currency)
Your cart displays in their preferred language (55% of consumers buy only from websites where information is presented in their native language)
You offer the most commonly used payment methods available (16% of shoppers will abandon their cart if their preferred payment option is not available).
You will also need to consider localized designs to have the most success. Unfortunately, it's not very easy to do this with out-of-the-box ecommerce solutions.
Shopify recommends getting a new account for every country you want to expand to which can significantly increase your costs and take a lot of time. You'll need to set up everything again while providing the exact content that you want to display.
Additionally, if the content needs to display in a different language, you'll need to provide it and not all languages are supported. Another route is to install apps for the various functionalities you need to localize but, as mentioned, these often come with additional costs.
Death By A Thousand Apps
While there are thousands of apps available to enhance your ecommerce experience, they can quickly contribute to soaring costs and may not work quite how you envisioned. Specifically, here are some functions that aren't always available with a default version of out-of-the-box ecommerce:
CRM integrations
Currency, language and payment method localization
Purchase path customization including trial periods, upsells and cross-sells
Tax collection and remittance
Coupons
Transactional emails
Robust analytics
Customer billing support
Subscription Management
Real-time license key provisioning
Automated partner tracking and payouts
If you just need a couple of apps, it might not be a problem. But if you need many, robust apps, it can add hundreds and even thousands of dollars a month to your ecommerce costs before you even make a single sale.
What Are The Alternatives
If out-of-the-box, building it yourself or other non-hosted ecommerce solutions that require deep technical knowledge don't sound like the best options for your business, what alternatives are there?
The best fit depends on what kind of goods or services you're selling, the complexity you need to maximize sales and your in-house expertise.
Out-of-the-box is particularly good for those just starting out and with little to no technical expertise. But once you start to scale, and depending on your particular business model, those needs can quickly become more complex.
For example, if you are selling physical goods you will need fulfillment and shipping solutions built into your process. If you're selling a software download, you don't need to ship anything but you do need real-time license key provisioning.
As such, there are many different categories of ecommerce solutions that specialize in different business models and verticals. For example, if you have any of the following needs, turnkey ecommerce solutions are probably not ideal for you:
Subscription management
Partner payouts
International expansion plans
Cross-sell opportunities
Sophisticated check out path customization
Luckily, there are solutions that lie between turnkey ecommerce and build-it-yourself solutions. For example, there are a range of solutions that give you the benefits of both a hosted platform and a great deal of configurability and functionality. An end-to-end ecommerce platform that includes a range of features to provide a configurable ecommerce experience with no monthly fees, app installation requirements, or hidden costs is Origins Ecommerce.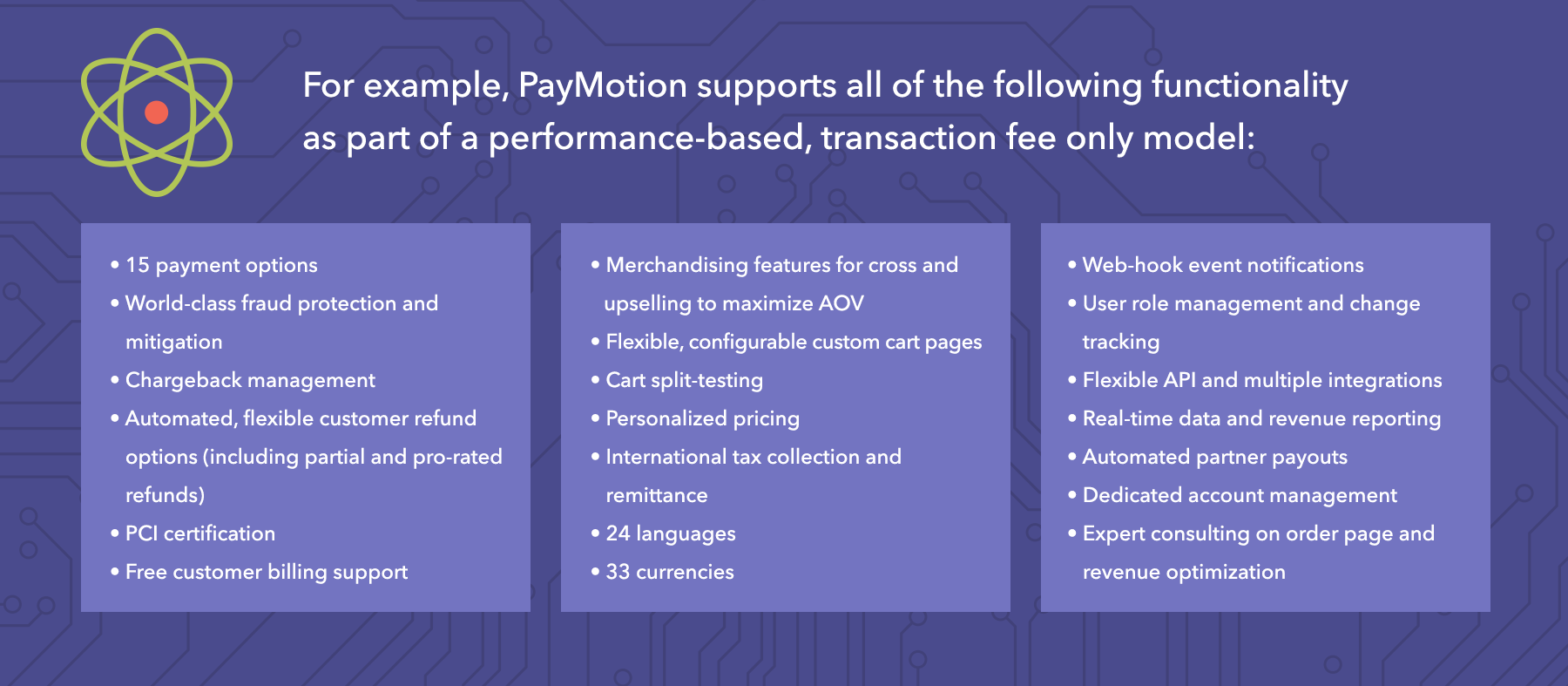 Choosing The Right Ecommerce Solution For Your Growth
Ecommerce is a fantastic opportunity for growing an existing business or starting a new one but only if you can effectively reach and convert customers. With so much choice when it comes to selling online, you need to assess your needs and expertise against the costs of the different options. Many find out-of-the-box attractive at first because it appears to be cheaper upfront - who can say "No" to what looks like a simple monthly fee of $29 for a Shopify store?
But that doesn't take into account the credit card rates of 2.9% to 3.5% + 30c per transaction, or the gateway per transaction fee of 2%, or the $49 per month for the Retail Package, or the fees that are associated with any of the 1,400 apps you may want to search through and include to enable additional functionality like email marketing or customer service or reporting.
Sure, some are free – but do bear this in mind...

With solutions like Origins Ecommerce, you can expect to pay more per transaction (somewhere between $4.95% +50c and 6.95% +$1), but you can also rest assured knowing that that's all inclusive, other than chargeback fees which the Client Services team works with you to keep to a minimum.
You also need to assess if there is a likely expiration date with the solution you choose. If you're going to outgrow out-of-the-box in a year or two and it's difficult to migrate from those platforms, you'll have to basically start from scratch with your new solution.
That's not to say that it's not worth switching from outsourced once you're already set up! Staying with the wrong platform for your business' evolving needs can end up costing you a substantial amount of revenue over the long term. Find out more about your options between the two extremes by contacting discover@originsecommerce.com today.